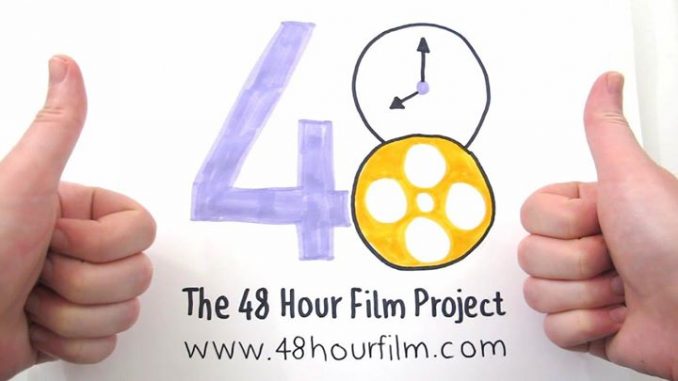 Who are you and where are you from?
My name is Gevin Booth. I grew up in a small town in Iowa but have lived in Seattle, WA for nearly 25 years. It is home.
What message do you want people to receive from your films?
The specific messages are often subjective. If successful, I would hope that the story (and accompanying visual/aural stimulus) creates an unexpected synapse in the viewer that provokes thought and resonates after the end credits.
Do you remember your first film?  When you knew that you could be a filmmaker?
I left a position as a Senior Paralegal to pursue a career in filmmaking and videography. Without the benefit of Film School, I began working as a production assistant for low-budget projects trying to observe and learn about the various production roles. I quickly realized that my organizational skills as a paralegal would serve me well in the film and video industry. One afternoon, I met with a Seattle director to discuss joining his crew as their Key Production Assistant. After talking for fifteen minutes, he offered me the role of Producer. I quickly agreed and then went home to try and figure out what a producer actually does. I read books, researched online, set up informational interviews with local producers and then went to work. Two months later, I had produced a film of which I was proud. When the director wrote me an email saying, "That film production was a work of art," I realized I could do this. I have since worked in a number of roles in film and television besides producing, including serving as Director, Assistant Director, Production Manager, Writer, Art Director, Grip, Actor and Editor. I don't claim one title, and this has offered me a unique perspective of the entire filmmaking process from pre-production to post-production. I still have much to learn, but this fact excites me.  
Who are your favorite artist and inspirations?
I am inspired by work that challenges our precepts and helps us see the world in a unique way, offering contemplative, strange, lush and quirky delights to jangle our neurons. The filmmakers I appreciate respect the craft immensely and present their stories with care and love as if every shot is a poem. I am particularly enamored by the works of Werner Herzog, Stanley Kubrick, Jean-Pierre Jeunet, David Lynch, Joel and Ethan Coen, Luis Bunuel, Wes Anderson, and jean-luc godard.     
What tools do you use, to film, edit and distribute your videos?
While the first film I produced was shot on Super 16-mm film, the teams I work with generally shoot on video, including using the following cameras: Scarlet/Epic RED, Sony FS700, Arri Alexa, Canon C300, and Blackmagic. Editing has been done online using Final Cut Pro, Avid, or Premiere. Most pieces are distributed online through various video and media outlets.
Where can we see more of your work, what other places has your work been shown?
Many of the films and videos of which I have worked are available online via video sites such as Youtube and Vimeo. One benefit of our digital age is that you can easily post your work for the public to see. I have also worked on cable television productions, including serving as the Post Production Supervisor and as a Story Producer/Writer for Lifetime's Hoarders, episodes of which should air next year. Narrative work has screened at various national and international film festivals, and this past June, a short film that I produced for director Nathan Williams, C.B. (https://www.youtube.com/watch?v=hLDz-QF8Gys), was available for screening on all Alaska Air domestic flights, a unique venue indeed. 
What do you see yourself doing in 20 years?
Producing and/or Directing a personal feature written while reflecting on the unpredictable path I have taken, laughing at the mistakes, savoring the victories, welcoming the future. 
If you could work on a film/art project with anyone in the world from any period in time who would it be?
Because of its influence on me from a young age, I would love to work beside an in-his-prime Steven Spielberg on the movie Jaws. From the subtle to the extreme, that movie captured for me the majesty of cinema, and it still captivates me 40 years after its release. 
Any last words you would like to say to the Section 8 Magazine readers interested in making independent films?
Any path to success, unless you are supremely lucky, is fraught with difficulty, pain, and failure. So, learn your lessons and then forge ahead. The reward is always worth the struggle. As a collaborative art, successful filmmaking is really about building and nurturing solid relationships while mastering your craft. I learn something new on every set. Try to find the role in which you think you will excel best and then work like mad to fine tune those skills. Affordable filmmaking tools are available to help you tell your story, so the most important advice is to do…DO! Then, create distinction (in whatever role) by consistently producing memorable work of which you are proud.