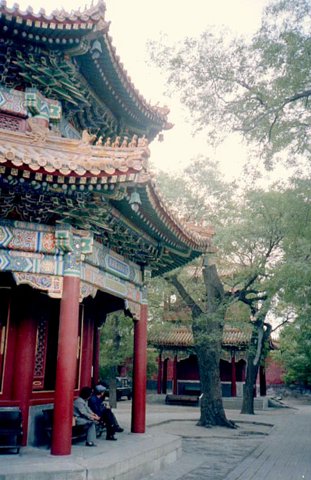 Photos by Maros Kentos + Poetry By Yuan Hongri ÷ 
Translated by 
Manu Mangattu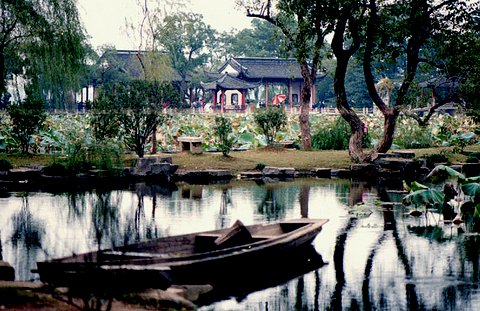 Ah! Of colourful stones of yore
The road you paved light.
In the kingdom of stars,
I finally found my home.
In that city of gold,
I opened the gate to the Sun,
To behold a fragment of the divine.
At the Royal Palace of the Jewel
Of the prehistoric wonders I read
In an enormous, gorgeous ancient book.
By my eyes I saw
The golden words that Juan carved
A wondrous strange mystery tale;
Into a full new world I went,
To witness the seat of the holy Kingdom:
Even before the Earth was born;
The erstwhile home of human history.
Across Time and Space in crystalline glitter
Stands this moment a platinum city –
A ship drifting leisurely,
Like a bird, resplendent in variegated hues.
 In the crystal garden I saw
A crowd of youthful giants,
Their eyes were bright and glittering
In the aura of the body's sparkle.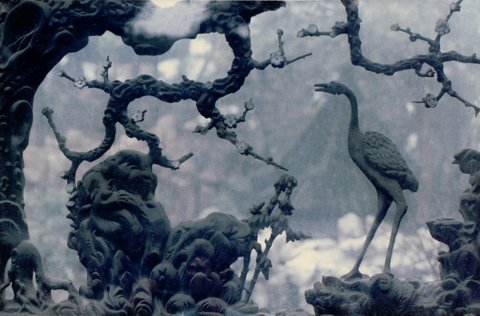 They sang happy songs
They danced a wonderful dance
Lanky boys and girls in pairs
As if to celebrate the splendid carnival.
I saw a circular edifice
High above the city.
Giving out a white light.
Raised ground to fly into the quiet space.
A frame of platinum edifice
Creating a beautiful pattern.
The whole city is a circle
Arranged into a fine structure.
Into a bright hall I went.
A strange instrument there I saw.
A huge screen hanging on the wall,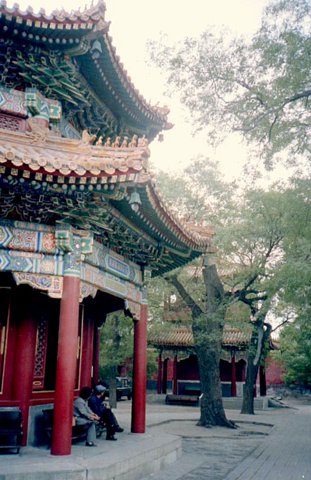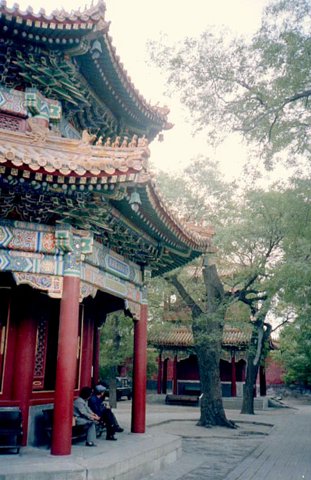 Displaying a golden space.
Like bits of colourful crystal stones!
Resplendent with variegated colours of the city!
Those beautiful high-rise buildings
A sight better than the myth of the world.
A line I saw of strange letters.
On one side of the screen
Numerous young and strong giants
Concentrate to watch the changing images.
Their look is quiet and peaceful.
The light in their eyes.
In a flash of clothes
The next is a whole.
Their bodies are very tall.
Seven meters high is each foot.
Men and women look dignified
No age difference apparent either.
Their skin is white as snow
With a faint flashy shine
Bright eyes just like an infant's
And with a strange flame.
They manipulate the magic of the instrument.
A picture of the changing space.
Their language is artless and plane.
As the bell is generally pleasant.
As the bright hall I see
A powerful energy I feel
Body and mind, full of happiness.
And it seems to be a giant.
I seem to understand their language.
They are exploring the mysteries of the universe.
That in the city there is a planet
Peopled with their various partners.
Their mind they use to manipulate the instrument
Also can to transfer data be used
Even thousands of miles apart
Also to talk free to the heart.
A line of text on the screen
Is but a message from afar.
The whole universe is their home.
They build cities in space.
The space shuttle they use
To take you to other space.
A moment into a lightning
You become a trace in the air.
I feel a new civilization.
They have magical eyes.
They seem to be able to see the future
And can enter diverse time and space.
Men and women are hallowed and loving
Superior to our world's so-called love
They don't seem to understand ageing
Neither do they know about war.
Time seems not to exist
Science is a wonderful art
Their happiness comes from the creation of
A universe full of divine love.
I saw a young giant
Opening the door of a platinum –
A round, magnificent hall
Packed with rows of men and women.
I saw a crystal stage.
At the centre of the hall.
A dignified and beautiful girl
Was playing a huge musical instrument.
A bunch of golden rays,
Shifting all kinds of brilliant graphics
A mysterious and beautiful music
Like the Dragon leisurely crowing.
Thence I saw an enormous giant
Jump out of the dance onto the stage.
His hands held a huge ball
Shining with colourful shades.
I saw a group of young girls
Wearing a white dress
They seemed to fly
Like a giant crane.
The huge circular hall was beautified
With clear, transparent decoration.
Like a gem of a full set.
Shining bright in light.
I saw a young singer
About the golden flame
The sound was strange and striking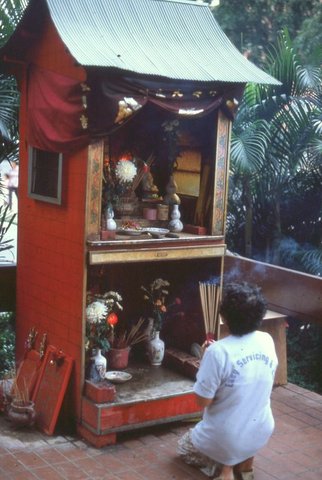 As if the singing was a chanting.
Their song of bliss change
Random like a lightning
It's a planet of the universe
A bright light in space.
And, as the crystal city
The air too is splendid.
Countless wonderful golden flowers
Bloom and blush in that flawless space.
A picture of a transparent smiling face
As I saw in that colourful garden
The golden light from the sky
Turned it to a city of gold.
I strode out of the circular hall
Came to a wide street with a smooth
Pavement covered with precious stones
And in line with the platinum edifice.
Trees none I found there.
But they are in full bloom.
Sparkling with rich incense,
The formation of a garden.
Some strange flowers were there.
The branches as transparent crystal
Flashing all kinds of brilliant colours;
A bunch of round golden fruit too.
I saw a huge statue.
It was like a spaceship.
Like a shining star, standing
Aloft at the centre of the street.
I saw a column of dazzling fountain
In a huge circle;
A beautiful statue
Portraying a holy giant.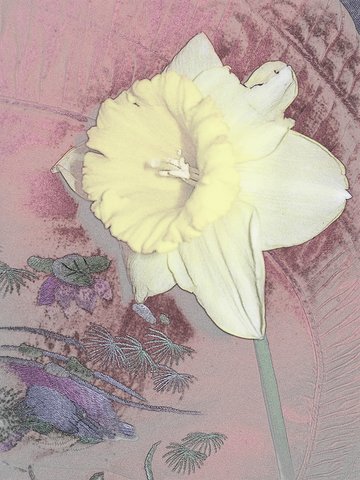 A soaring edifice
Ran round the circle.
There were some garden villas
There was a white steeple.
I saw a wide river
Girdling this huge city
The bottom flash reflected transparent Jinsha
There were sundry colourful gems.
The planning of tall trees
And a long corridor
A multi-coloured bird
Three five one group on the surface of the water.
I saw a vast forest
The swaying tree, a tree of gold
The trees with towering spires
And as some platinum Pavilion.
I saw some giants along the walk,
Some male and female bodybuilders.
At the water's brink or in the forest
Like birds carefree and relaxed.
An ideal space as bright as crystal
Embraced this platinum City;
A white and bright ball
Flashed light in the air.
It was a huge sun
And like a man-made planet
The whole city was shining
To frame a kind of magic.
A strange speeding train circled
About the city back and forth;
There seemed to be a kind of track in the sky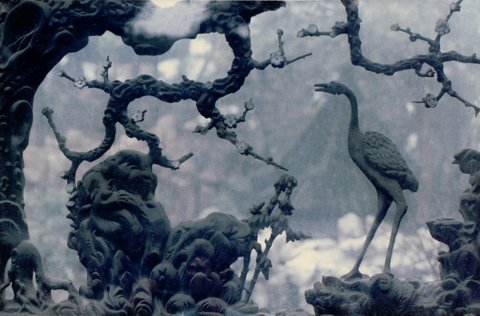 Like a shiny silver curve.
They seated body white buildings
It was a dreamlike maze
Huge urban anomaly;
Could not even hear the sound of the wind.
I bade goodbye to the platinum city.
Near a golden space
Stands another city here
A huge city of gold.
The building here is also huge.
But it's another beautiful shape.
The whole city is glittering
Golden edifice as beautiful as sculpture.
Here there are some other giants.
As if from another nation
They have boundless wisdom.
Like a golden, holy civilization.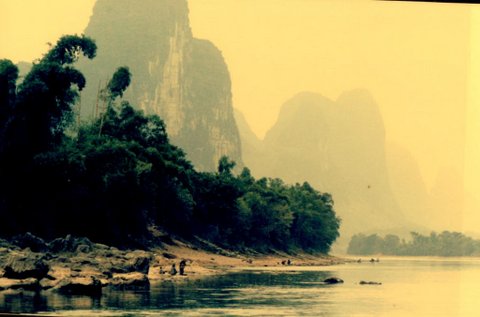 1998.3.3
Author introduction: YuanHongri was born in 1962 in Shandong province Yanzhou District China, folk poet, specializing in the creation. Representative works include poem 《Platinum City》,《Gold City》,《Golden Paradise 》、《Gold Sun》、《Golden Giant》 .