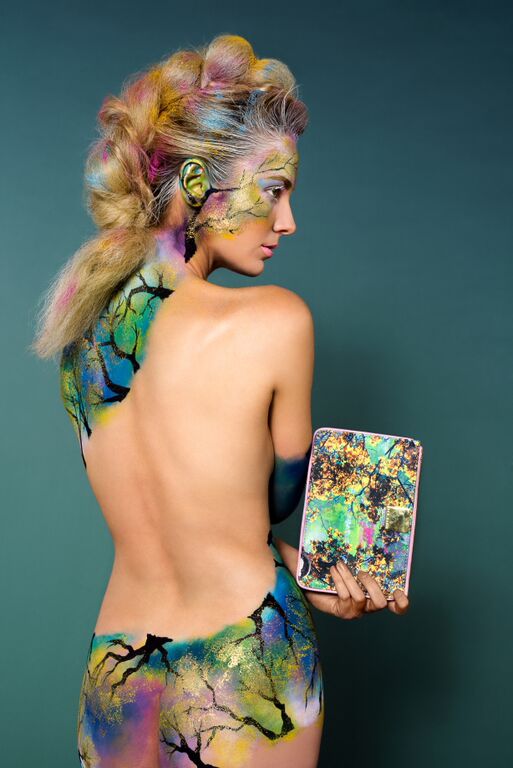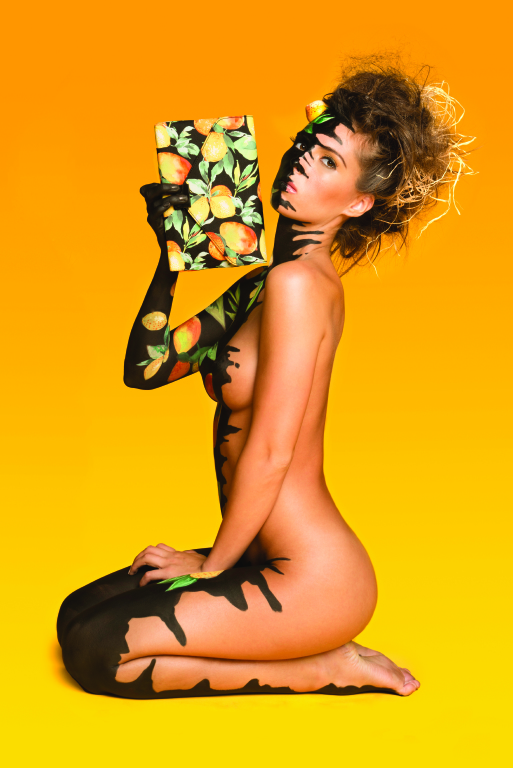 Who are you and where are you from?
My name is Julie Hassett. I currently live in Los Angeles, CA, but I am originally from a small town in Western Massachusetts called Wilbraham. I am a body painter, face painter, henna artist and SFX artist.
What message do you want people to receive from your artwork?
The message I want people to receive from my artwork is really any message they want to derive from it, as long as it's empowering. I am inspired by so many different things, so my artwork usually reflects whatever it is I'm currently feeling inspired by. I suppose I would just want people to feel inspired like I am…but in whatever way feels best for them individually.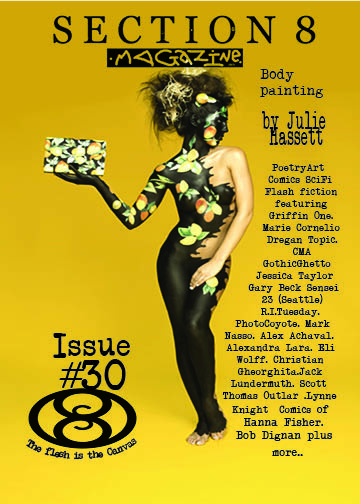 Do you remember your first artwork, when you knew that you where an artist?
My first piece of artwork came at a very young age, so I don't necessarily remember one particular piece being my first. I was always drawing and creating and won a coloring contest out of the newspaper when I was 2 years old (which actually won the Candyland game…such a good prize). I wouldn't exactly call that an original, though…haha. I have always want to be an artist, but I probably didn't realize I always have been one until I was in high school or college.
Who are your favorite artist and inspirations?
Some of my favorite artists and inspirations include Picasso, Van Gogh, body artists Emma Hack, Joanne Gair, Craig Tracy…the list could go on and on. I'm constantly discovering new artists that I love and draw inspiration from! I'm also really inspired by nature and fashion.
What tools do you use, to create beautiful colorful work.
The tools I use for body painting and face painting are professional grade face and body paints (water based usually, but sometimes alcohol based as well), sponges and brushes. For henna, all I use are henna cones and red henna paste. For SFX, there are way too many materials to list!
Where can we see more of your art, what other places has your work been published?
You can find more of my work on my website www.letsgoghpaintservices.com, my Facebook page, entitled "Let's Gogh Paint: Face Painting, Body Painting & Henna," and my instagram page, @juliehasit. I'm also have a featured page on the ilovebodyart.com site, a feature on Nerdist.com and of course, in Section 8 Magazine! You can also find my work on my YouTube channel, where I create face and body painting tutorials, as well as SFX tutorials. My page is listed under juliehasit or Julie Hassett. My work can be seen in music videos for The Janoskians "Friend Zone", Cimorelli's "You're Worth It" and various shorts, sketches and upcoming commercials. I frequently live body paint at art shows in LA like The Chocolate & Art Show, ClusterFU, or my most recent show at the Long Beach Aquarium.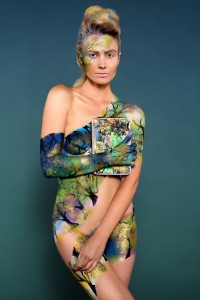 What do you see yourself doing in 20 years?
In 20 years, I hope to still be body painting, perhaps in the fashion world, being represented by agencies and traveling the world with my work and family. I'm sure that goal will probably change slightly…maybe drastically…and maybe more than once. Who knows! As long as I am happy, financially comfortable and creating, surrounded by people I love, I can imagine I will be very satisfied with where I am.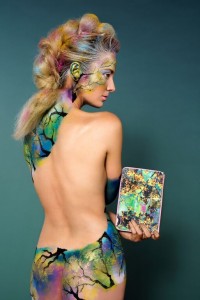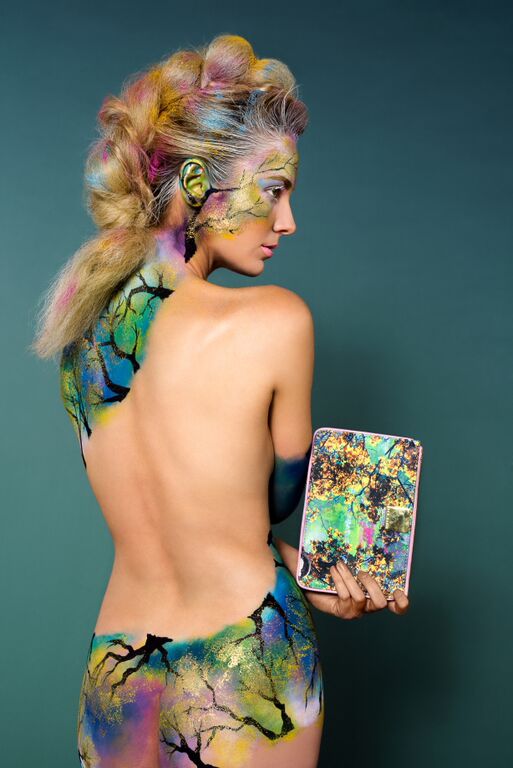 If you could work on a art project with anyone in the world from any period in time who would it be?
If I could work on an art project with any artist from any period of time…wow. Hard question! Do I have to choose just one?! I would probably want to collaborate with Vincent Van Gogh and create a beautiful background piece with his incredible brush strokes…and incorporate a model into the piece with body painting. I also hope to work with Joanne Gair in the future. Her work is so inspirational to me and inspired my very first body paint. We recently emailed back and forth for the first time and I was fan girling so hard. I really hope we can collaborate at some point. That would be a dream. OH! Also, I would love to body paint Lady Gaga.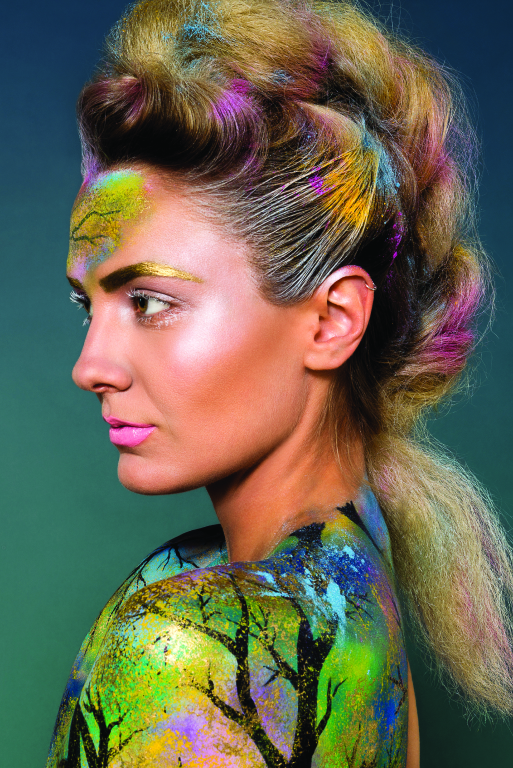 Any last words you would like to say to the Section 8 Magazine readers worldwide?
To the Section 8 readers…if you are still trying to figure out what your niche is, whether it's in the art world or otherwise, realize that it can happen, even if there isn't already a mold for you to fit into. For a while, I was planning on pursuing my PhD in Psychology…and a couple of years later, I was creating again, using my Psych background, art background and determination to avoid working a 9-5 job. I ended up accidentally finding body painting and body art and falling in love. The world throws us funny curve balls. I was living in NYC and forced to leave because of a housing/crazy roommate issue. I moved back to MA and in with my family for 2 years and was depressed because I felt I'd lost my independence. I rediscovered my passion for painting, which lead me to a random job face painting. When I moved to LA, I started my own face painting and henna company and branched out into body painting. Did I ever think any of that would happen? No. Now I realize that if I had never had that crazy housing issue and left NY, I may not have ever gotten to where I needed to be – in LA, body painting. My point is, don't ever give up on your dream. There is more than one way to reach your goal, so if you find that your path looks different than you originally designed it to look, don't get discouraged. You'll get there if you don't give up and keep pushing.