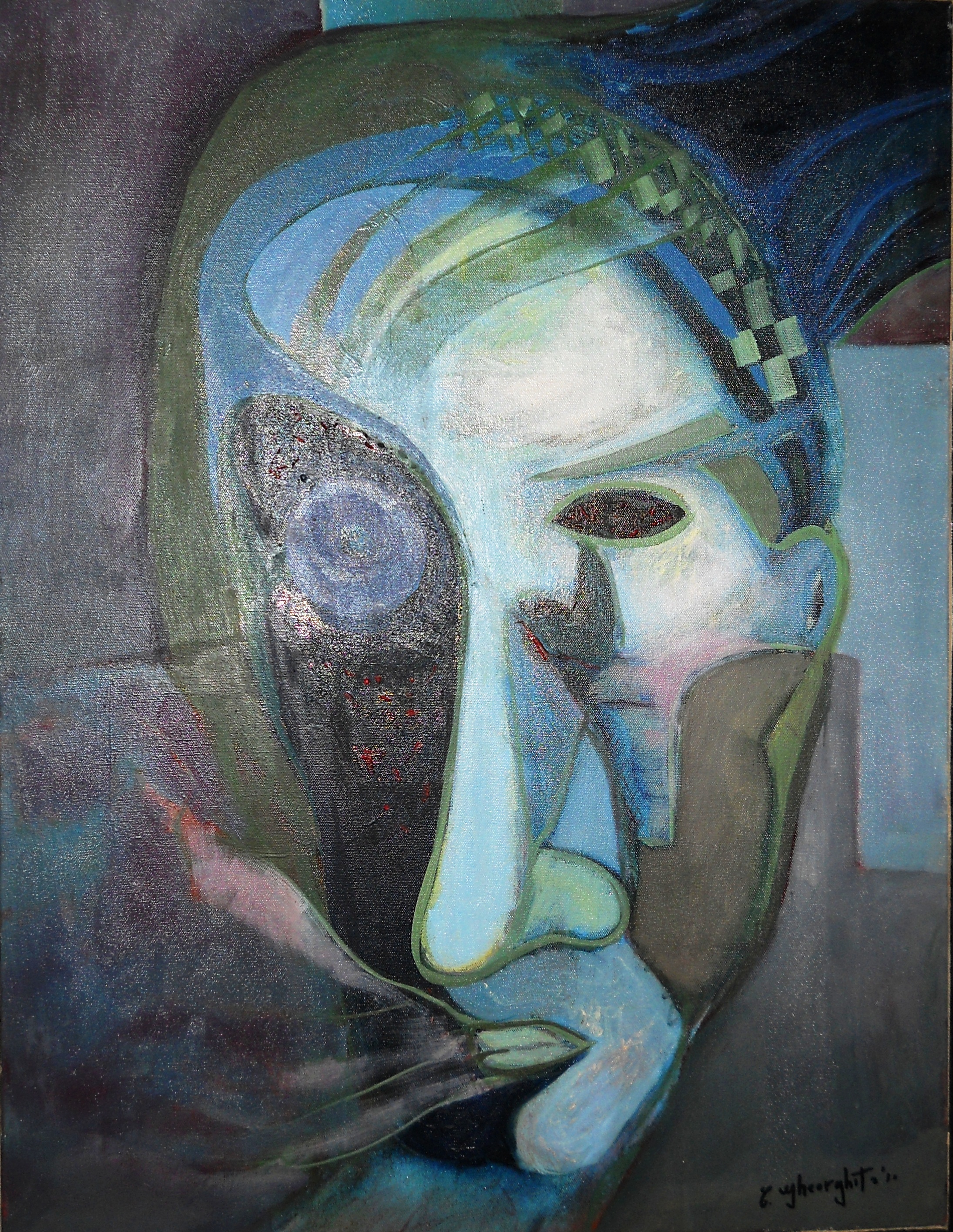 Cristian Gheorghita (Romania) at www.woltavernis.com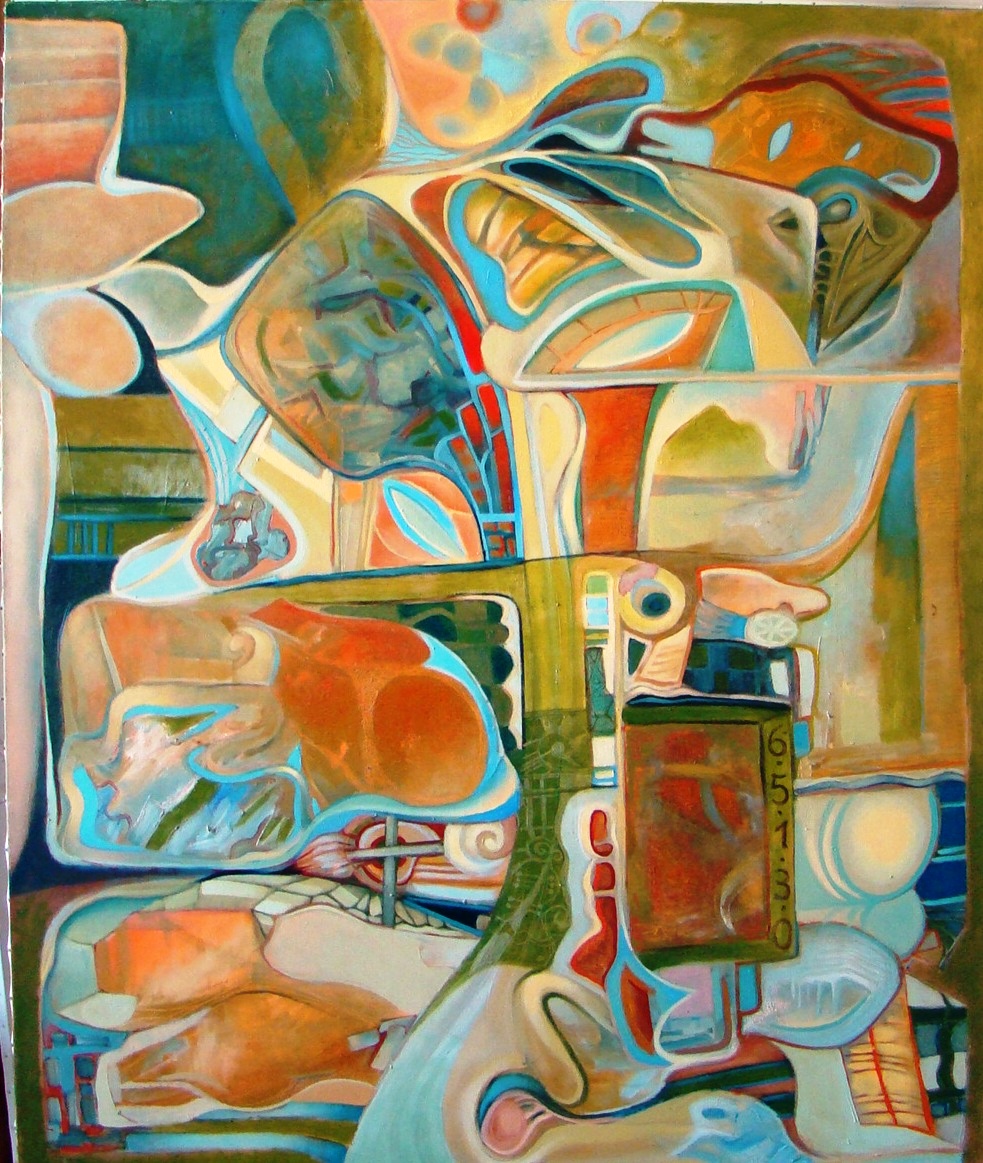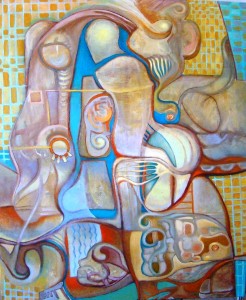 Seria de lucrari Artifacts 1 si 2 au o deosebita semnificatie pt mine deoarece in realizarea lor m-am axat pe evidentierea uneori accidentala a unor zone picturale care subliniau forme capabile sa starneasca interesul si ma duceau cu gandul la un joc pe calculator numit Stalker unde artefactele erau obiecte cu proprietati deosebite.
Lucrarea Atmosphere reprezinta mai mult o stare de spirit, asemeni unor vapori de apa care se amesteca cu un soare care incearca sa strabata norii.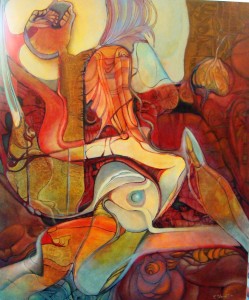 Aztec in agony este o pictura ce aminteste de epoca sangeroasa din America Centrala  atunci cand era condusa de azteci, cei care aduceau jertfe umane zeilor.
Baldabac e zgomotul pe care il poate scoate un peste sub apa .
Elegy of the vine este senzatia pe care mi-o comunica lucrarea atunci cand am terminat-o. Vazuta mai intai ca o pictura gestuala, am identificat apoi rosul autentic al vinului cabernet sauvignon.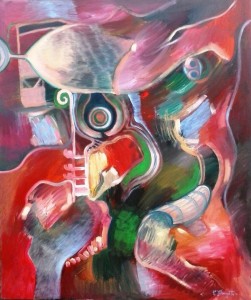 In pictura Exuberance am cautat contrastul vioi, expansiv al culorilor fiind o preocupare pur cromatica.
Lucrarea Janitor e o pictura realizata in facultate unde am avut  ca model pe omul de serviciu. Expresivitatea si interpretarea am facut-o conforma cu stilul meu.
Lascivious material e o compozitie erotica reprezentant doua entitati feminine realizate intr-o tehnica mixta avand ca elemente sfoara, moneda, staniol, care creaza  niste materialitati ce promit senzualitate.
Lethargy ne prezinta starea letargica pe care o are un individ stilizat ce sta intins care se intrepatrunde cu diferite elemente, uneori vegetale.56. Lethargy ne prezinta starea letargica pe care o are un individ stilizat ce sta intins care se intrepatrunde cu diferite elemente, uneori vegetale.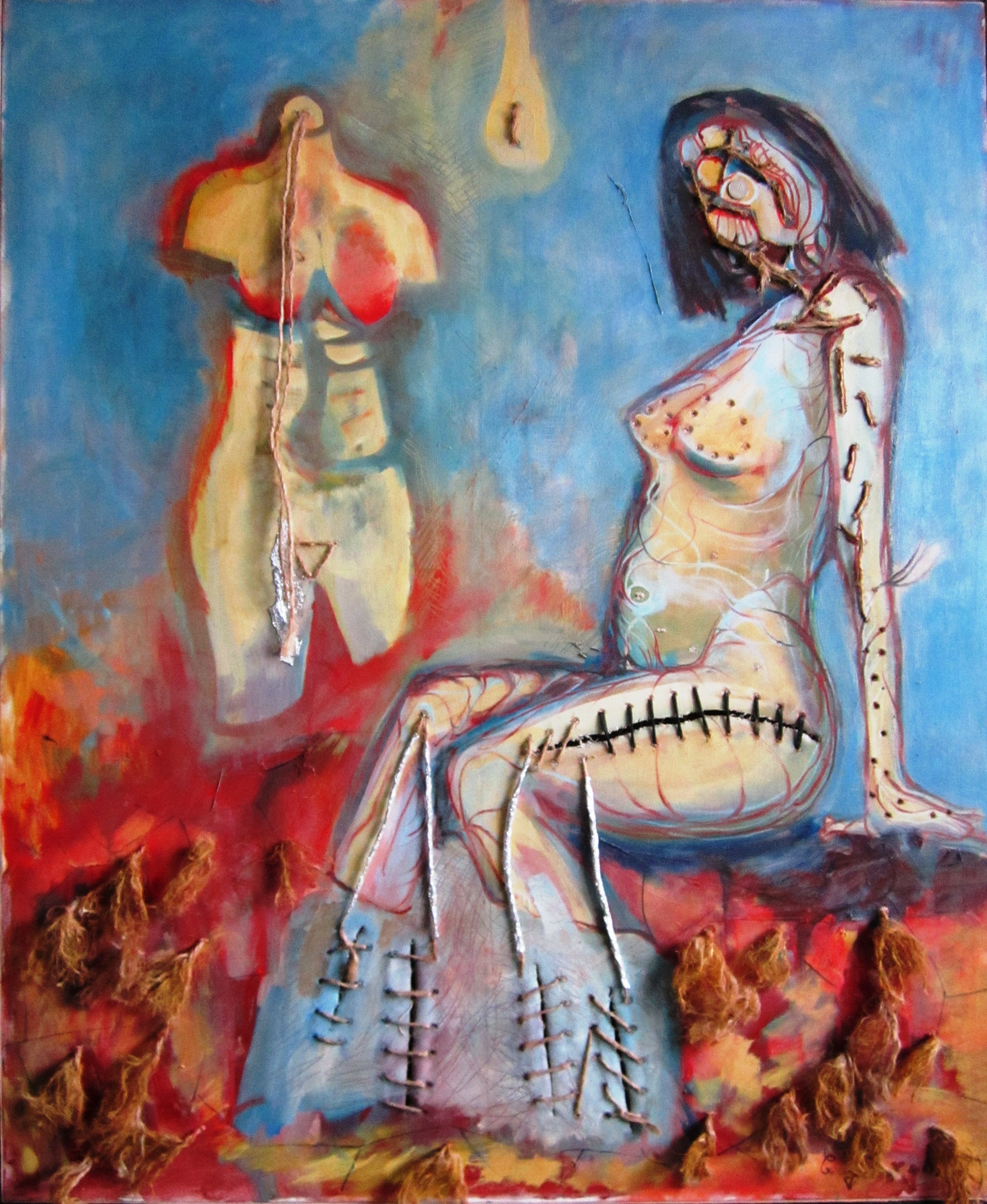 In lucrarea  Master's wheel am fost inspirat de o roata care aminteste de roata olarului, numai ca de data asta este doar roata maestrului care se invarte atat timp cat creaza.
Noah's ark are acelasi rol ca celebra arca numai ca de data asta salveaza o adunatura de elemente plastice, fiecare cu proprietati diferite.
Orologiul vegetal  este timpul masurat de natura folosind diferiti parametri naturali.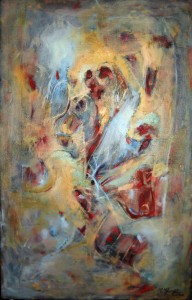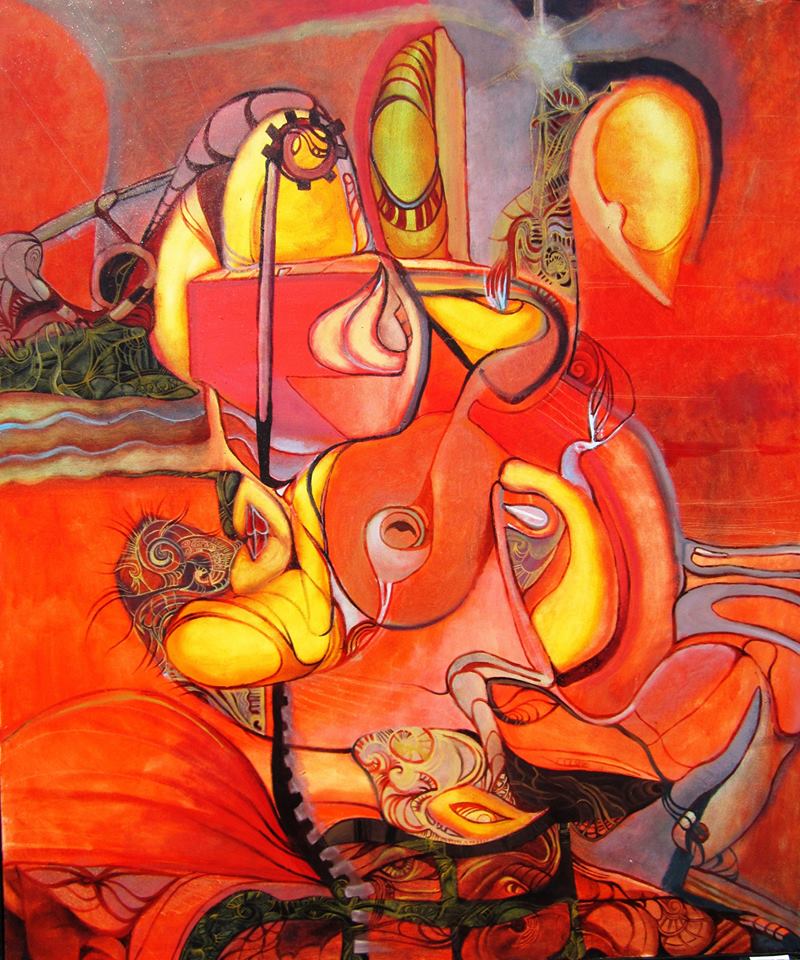 Poltergeist, dupa cum ne sugereaza si titlul urmareste o suprafata picturala cu diferite halouri reprezentant spirite
Recycling red nu face nimic altceva decat sa faca o asa zisa reciclare cromatica, adica din culoarea rosiatica prin eliminare sa rezulte un rosu aprins.
Rope and Fontana este o lucrare cu o tehnica mixta la care s-au folosit diferite obiecte, funie, pungi, monede, cd pentru a crea o spatialitate asemeni lucrarilor pictorului Lucio Fontana drept pentru care am taiat si panza.
The couple este o lucrare romantica care imi aminteste de o fata din Spania si de celebra legatura dintre un barbat si o femeie. Femeia urmeaza sa aibe un copil reprezentat simbolic printr-un ou,  barbatul e bucuros ca are mostenitor dar nu e constient de ce sacrificii trebuie sa faca femeia ca viitoare mama, de asta cele doua portrete sunt prezentate diferit, el vesel ea pe ganduri.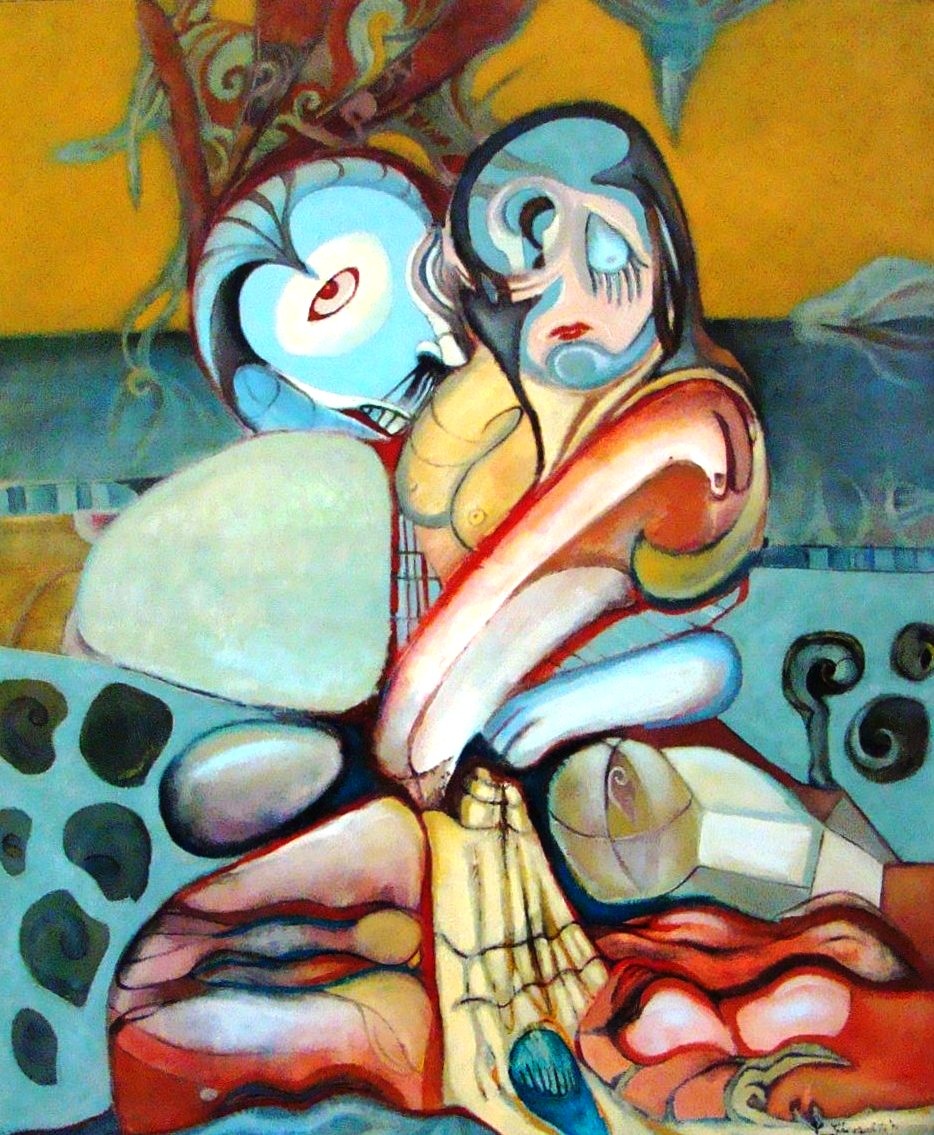 Cristian Gheorghita (Romania) at www.woltavernis.com